BROCKMANS GIN LAUNCHES A VIRTUAL INTERACTIVE MASTER CLASS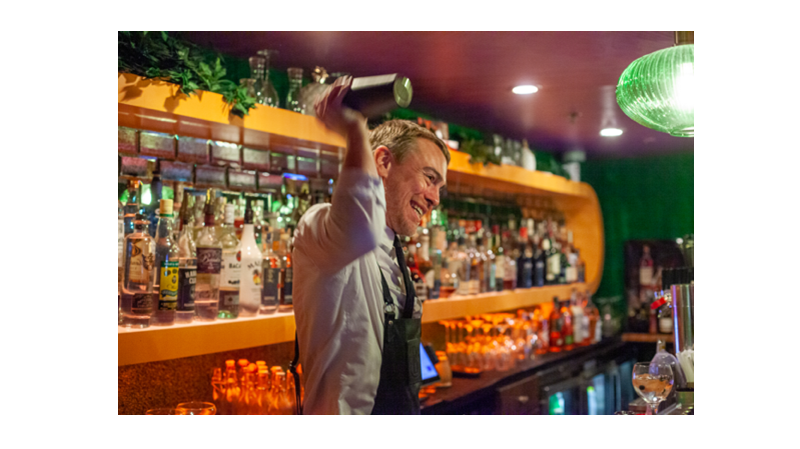 Brockmans Gin recently launched innovative and interactive Virtual Master Class events inviting mixologists, influencers and spirits enthusiasts to explore the exciting world of gin and how the use of traditional and non-traditional botanicals that make Brockmans the "properly improper gin". Brockmans Gin USA Ambassador Matthew Hart hosted the events in partnership with key spirits influencers to engage directly with gin enthusiasts and influencer followers.
First, Brockmans Gin hosted a special live, virtual masterclass and cocktail-making event in partnership with @tonightspoison! In-person consumers and influencers gathered at Tara Rose in midtown Manhattan while virtual guests gathered on Zoom to learn the art of creating two of Brockmans signature cocktails – the Brockmans Perfect Serve Gin & Tonic and the Brockmans Wet Dog. Virtual guests received a Brockmans Gin & Botanical kit in advance to allow them to participate in the tasting in real time.
Following the New York event, Brockmans, in partnership with influencers @tonightspoison and @#licencetodistill, hosted an Instagram Live Virtual Masterclass event where attendees learned about the unique botanical blend of Brockmans Gin and learned how to create the event's signature cocktail, the Brockmans Negroni. .
Finally, Brockmans, in partnership with @tonightspoison and @#licencetodistill, hosted a virtual Instagram live training and cocktail-making event featuring Brockmans Perfect Serve and Wet Dog cocktails. Attendees received Brockmans cocktail kits prior to the live event to allow them to experience cocktail making in time with the experts.
During the virtual events, attendees across the country were encouraged to post "properly unfit" cocktail recipes and photos to their Instagram accounts for a chance to win prizes. The winner was selected based on the name of the cocktail, the original recipe and the photo. The big winners of these events were:
September 29: Choccoffeewine (Chicago)
November 15: @a_dram_for_all (Georgia)
Matthew Hart, Brockmans Gin US Brand Ambassador, said: "Through these dynamic and interactive live and virtual events, we were able to reach and sample over 275 direct attendees (live and virtual) and generate more of 7,000 engagements and 100 highly selected photos by followers on Instagram. We're excited to continue to grow this program with a full calendar of Virtual Masterclass events slated to launch in 2022. Follow @Brockmans Gin for up-to-date event information throughout the year.
For delicious Brockmans Gin recipes, visit www.BrockmansGin.com
Follow Brockmans Gin on:
https://www.instagram.com/brockmansgin/
httpps://twitter.com/BrockmansGin
https://www.facebook.com/brockmansgin