Don't ban the virtual school. Improve it.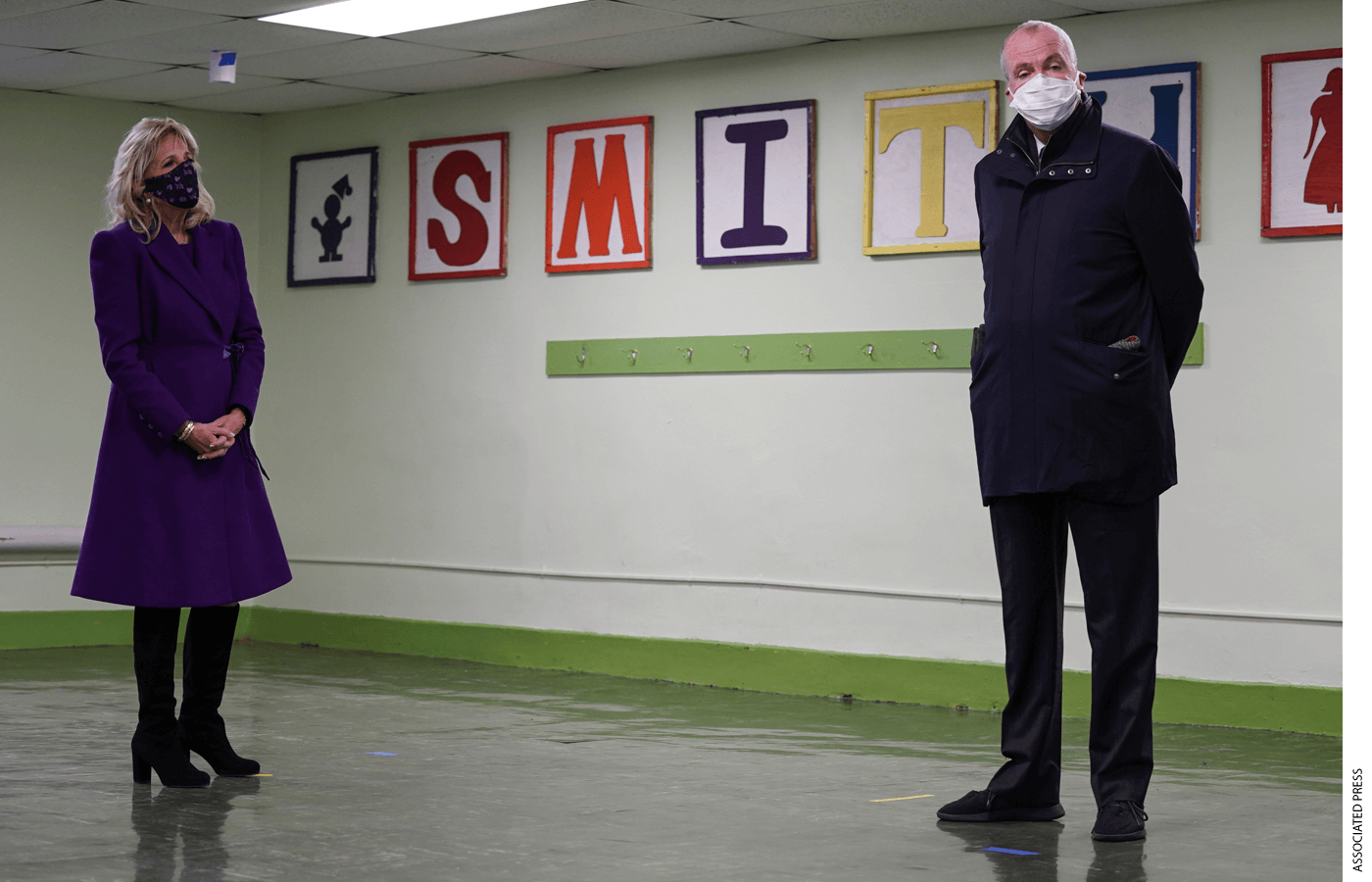 Amid a nationwide campaign to get students back to school, New Jersey Gov. Phil Murphy said his state's school districts would not be allowed to offer virtual learning next year, even for parents who want this option.
At the same time, more and more districts are reporting that they intend to offer virtual school options to meet the demand of families. According to a February survey by the EdWeek Research Center, 68% of districts plan to offer "a much wider range of distance learning options."
While the full-time virtual school has not been ideal for the majority of families and students – and there are plenty of memes showing people's dissatisfaction with distance learning that they have lived – a significant number say it has been a blessing to them. In many cases, they do not intend to return to school in person full time. There is plenty of evidence for this in skyrocketing enrollments at online schools, from ASU Prep Digital to Florida Virtual School and from Stride, Inc. to MyTechHigh.
It is as it should be.
Our current school system was never designed to optimize learning for all students. Training takes place at fixed intervals and progress is primarily based on time spent at headquarters, not fluency. Students can skate while missing large chunks of knowledge. The choppy remote and hybrid offerings that districts launched in response to the pandemic typically doubled down on this system and were often clunky at best.
Combating the bad online experiences of 2020-2021 and launching a robust virtual school as part of a larger strategy to escape today's unique system can be hugely positive, but only if districts take a thoughtful approach. Such an approach would involve identifying the desired end state and taking into account the experience of students and teachers before choosing providers of technologies and study programs.
Start at the end
The first step in any virtual school launch process is not to start posting tenders for technology platforms, study programs, or hardware.
Rather, he should start by identifying the right founding team to build the virtual school, and then ask that group to come together to identify the problem the virtual school is trying to solve or the goals it should achieve for the students, students. families and the district and the wider community. .
In other words, it should start with the end in mind. Part of this puzzle is figuring out which students the virtual school will serve.
During this workflow, the team should not be content with superficial understandings of who the school will serve that is content with static demographic descriptions. Instead, the team needs to understand the circumstances in which these students are sitting and why they would prefer a full-time virtual school to a school in person.
It means understanding what progress looks like for families. What are they trying to escape? What has gone wrong for them in the past? What more do they hope for? Why do they prefer distance education? What is their home life and schedule like? Are there certain activities they do that make traditional school hours and interactions a no-start? What kind of academic progress have students made historically?
Understanding the context will help the district team understand the kind of experiences that a virtual school should provide for individuals to enable students to progress. What works in one case may not work in all cases.
For example, for some students, asynchronous learning, in which they have considerable independence and flexibility in when to learn, can be an essential part of a successful virtual school. For many others, the opposite will be true. How schools perceive cohorts and community can vary widely, as can how they perceive the programs, teaching and learning experiences, and services and courses that schools should offer.
Student and teacher experience
One thing every district should stress is that students who learn virtually must have an adult in person who can supervise the learning. This adult can make responsible decisions about how to supervise, but the adult must be available and on site. Districts should view teaching as a team sport, in which teachers work together and with parents and guardians to create a network of supports for students to create a more solid experience.
Part of the reason is that research on online learning suggests that in-person interactions are important to the success of most students. Students in full-time virtual schools generally need an involved parent, and students taking an online course do much better when there is a mentor on-site. Districts need not necessarily prevent students whose parents cannot be involved from learning virtually, but they should ensure that there is an alternative arrangement, whether through learning modules and micro -schools, cooperatives or the use of other tutors.
It is possible that for schools that adopt a synchronous experience, the adult at home may not need to be so present. It is likely, however, that even then, an adult will need to be on call to make sure the students are able to problem solve and keep an eye on the students in case the distance teacher needs to. help.
This means that full-time virtual schools will not be suitable for all students. It's not only OK, it's a good thing. What is essential is to build something that has a clear philosophy and a meaning for who it serves. If districts are to support students in different settings, then they should consider standing up or offering access to different virtual school programs. It is preferable to a single operation.
Team teaching can also help districts set up programs that, unlike many traditional school experiences, encompass personalization, active learning, and mastery or skill-based learning. This is essential to create an optimal learning experience in which students are engaged and make academic progress. And unlike districts that have had teachers tasked with teaching children in person and remotely simultaneously during the pandemic, virtual students should have a dedicated group of teachers they can rely on.
Technology, program and operations
With a clear idea of ​​why a district is launching a virtual school, who it seeks to serve, and what experiences it needs to offer to do so, the district is now ready to understand the technology, program, and operations.
There are a variety of ways to go.
For districts that need to move quickly, they can partner with long-established virtual school providers like Stride, Inc. or Connections Academy. While these vendors' systems have been designed to meet the time attendance requirements in place in states, they have significant experience in running a full-time virtual school operations – which is not the case. not a simple task – and helping a district get started and run. These providers also have the expertise to ensure that students have the right technological equipment, Internet access, and educational materials at home.
One of the first online pioneers, Florida Virtual School can also help a district quickly set up a virtual school by meeting all of its curriculum needs and providing operational expertise.
There are also newer or more innovative ways to meet technological and curriculum needs. New Hampshire's Virtual Learning Academy Charter School (VLACS) offers students different avenues to learn and demonstrate mastery of its courses. ASU Prep Digital, which is led by Julie Young, the founder of Florida Virtual School, offers options that redefine what online learning looks like, with courses, like its BioBeyond offering, that provide robust simulations, as well as university course credits.
Districts can also work with micro-school providers like My Tech High and Prenda Learning who offer a range of curriculum choices, access to experiential learning, and systems to facilitate home learning.
There is also a huge range of curriculum offerings such as Districts can take a DIY approach to creating a virtual school and take advantage of offerings from many of the options above, as well as offerings ranging from Khan Academy to Zearn and live online. Outschool classes. Partnering with a consultant, like Education Elements (where I'm a board member) or Transcend Education can help a district get up to speed. Districts can also combine existing digital curriculum options with tools like NearPod to enable teachers to quickly create digital and interactive lessons where personalization is important.
The current range of traditional learning management systems make it easier for schools to track student progress, but there are also more robust offerings like MasteryTrack now available or alternative transcription options like Mastery Transcript Consortium so that districts can move beyond a siege-based model that is entirely inappropriate for a full-time virtual environment.
Districts that take a DIY approach will also need to consider the technological needs of students and ensure that they provide all the students they will need to be successful. This doesn't mean that a district will need to provide connectivity, say, to all students, just that districts need to have a clear idea of ​​what requirements are in place to be successful and how they will deliver them. It will be important to sweat the details and take care of the logistics.
Planning and launch
States are wrong to ban districts from continuing to offer their own virtual schools in the fall. Some students want and will thrive in these options, even after seeing in-person schooling return as a safe option.
But districts will be wrong for thinking that it's easy to launch an effective full-time virtual school on the fly. To do this successfully, they need to anchor their work in a larger approach to ensure that there are a plurality of options so that all students can find the right solution. And they should see their plans not as concrete, fixed documents, but as the start of a planning process that they will continue to revise as they get started and learn from the facts on the ground. .
Michael Horn is editor-in-chief of Education Next, co-founder and distinguished member of the Clayton Christensen Institute for Disruptive Innovation, and a senior strategist at Guild Education.