Virtual services and activities keep students connected to campus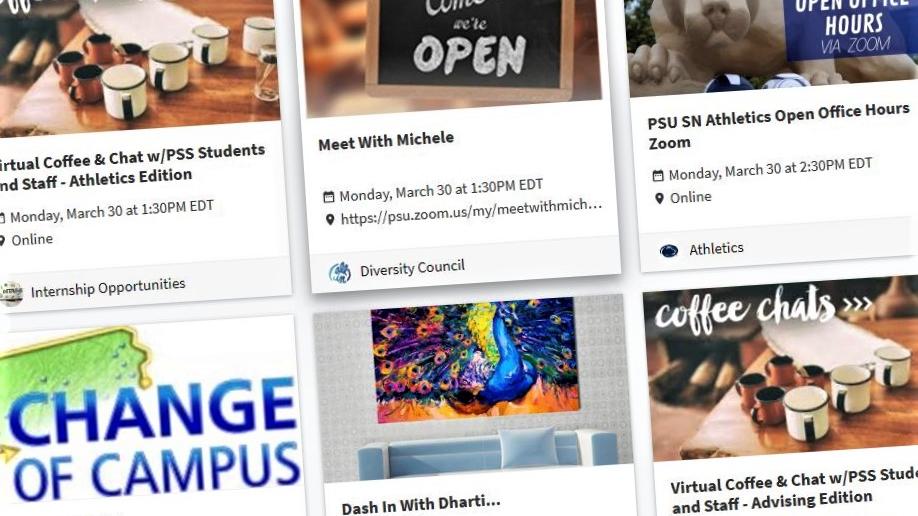 DUNMORE, Pa. — Penn State Scranton's Office of Student Services and Engagement is doing its part to keep students connected to the campus community during the COVID-19 coronavirus pandemic.
With students now engaged in remote learning for the remainder of the semester, Student Services staff members are taking the same approach to providing students with a host of virtual services and social opportunities.
According to Director of Student Services and Engagement, Brad Kovaleski, the steps are necessary to ensure that students not only survive, but thrive during this unprecedented and uncertain time.
"A big part of being an inclusive and welcoming campus is taking care of everyone in our community," Kovaleski said. "Verifying people, engaging and connecting are just some of the ways we can accomplish these things. We miss in-person check-ins and understand how much we as humans need to Research shows that people who have meaningful social connections are happier, have fewer health problems, less depression, and live longer.
Student Services and Athletics staff members are available through their email or office phone numbers from 8 a.m. to 5 p.m. Monday through Friday. Staff have been busy responding to inquiries on a number of issues, including online textbook availability, campus scholarships, tuition payment, writing center assistance, access to newspapers, social distancing tips and wellness resources. And, every morning, students receive an email from Student Services Administrative Support Assistant Michele Nicoteri full of useful information.
Students can also schedule one-on-one phone appointments and Zoom meetings, including sessions with Campus Counselor Dr. Katherine Stefanelli, LPC, and Career Services Coordinator Jon Tobin.
Meanwhile, Stefanelli will do a weekly guided meditation at 3 p.m. every Friday and add a segment called "Mental Health Minutes w/Dr. KatS" to his YouTube channel.
Additionally, yoga instructor Carol Brozzetti, who teaches gentle yoga on campus weekly, will continue these sessions every Wednesday, live at noon, via Zoom.
In April, each campus major will host a virtual meeting, while campus student clubs will host two online meetings. This includes the Student Government Association (SGA), which holds its elections virtually through the GSA Engage portal and social media.
On the social side of the spectrum, Student Activities Coordinator Julie Gilpatrick and Diversity and Inclusion Coordinator Dharti Ray are planning a series of unique and fun virtual activities.
"We believe that students should have all the resources and opportunities regardless of our physical location," Ray said.
Among other activities, they are hosting virtual coffee and discussion sessions for staff, students, and faculty, as well as virtual tours of the National Aquarium, Ellis Island, and the Smithsonian National Museum of African American History and Culture. .
Other events include the Indoor Scavenger Hunt, Best Hashtag Challenge, Workspace Photo Challenge, Photo Pride Social Media Challenge to celebrate LGBTQIA+ Awareness Week and Social Distancing Spirit Week. end of semester.
For dates, times, and a complete list of Virtual Campus events, visit: https://psuscranton.campuslabs.com/engage/events.
Always mindful of the financial challenges that many students and their families currently face, Student Services also promotes the University's Student Care and Advocacy Emergency Fund, available to students of all the commonwealth. Students can apply for funds at: https://studentaffairs.psu.edu/support-safety-conduct/student-support-services/financial-concerns. Once on the page, click on the first blue box labeled "Apply Now: Student Emergency Fund".
Additionally, the office is developing a plan for the campus pantry to reopen once the campus is operational again, Kovaleski noted.
Taken together, these measures could go a long way toward mitigating the disorienting effects of the current campus reality.
"I think it's important for faculty, staff and students to realize that this was a big change in our daily lives," Kovaleski said. "We should settle into a routine now and it's important to remember that we have other communities and outlets that make college life – and Penn State in general – such a great place. The more we can be in the moment and help students navigate this online world, the better we prepare them for success. »